Fossil Pointe – The Best DFW Shotgun Sports
Fossil Pointe is a 5-star facility with beautiful terrain and wildlife for all to enjoy. Our sporting clays courses are nationally recognized with targets for all levels of shooters.
A 50-Target Masters Course
*All stations are set with electronic controllers that can set time delays for solo shooters.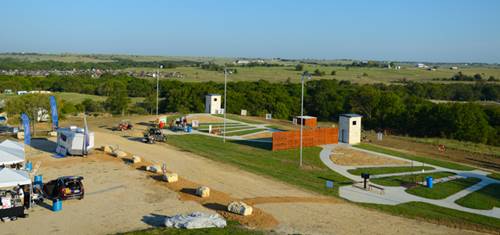 What is Sporting Clays?
Sporting Clays is like golf with shotguns. Shooters will go from station to station where trap machines will throw clay targets in different presentations. Each course is uniquely played out and redesigned on a periodic basis.
What is a station in Sporting Clays?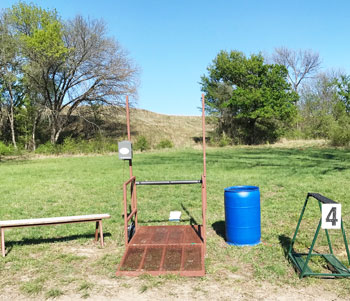 Shooting stands are the position from which you will be shooting. Firearms are to be loaded only when in the shooting stand and ready to shoot the targets. When exiting the shooting stand all firearms must be unloaded and actions must be open.
How long does it take?
A 50 target course takes about an hour. A 100 target round typically takes about 2 hours.There are no minimums or maximums number of targets that you are required to shoot. Shoot as much or as little at your leisure. All courses are walkable; however, we have golf cart rentals available if needed.
We've got you covered- literally!
We can provide all necessary equipment needed, from ammunition to firearm rentals for your convenience. Our pro-shop offers a variety of merchandise for sale.
What Type of Shotgun?
All gauges of shotguns are allowed although 12 gauge and 20 gauge are the most popular. Shotguns must be hunting or sporting style shotguns. We can provide a safety check if needed.
What kind of ammunition do I use?
Shot size must be 7.5, 8, or 9 and not to exceed 1 1/8 oz. loads. Likewise, 3-inch shells are not allowed. We offer a variety of ammunition sales at the club house.
How do you release a clay target?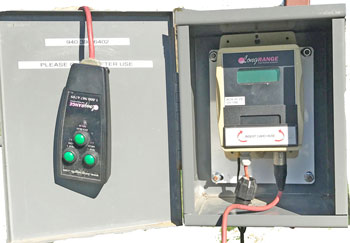 All stations are equipped with electronic release controllers. Guests will be issued a target card which will be used to activate controllers.
Do you all have golf carts?
Guests are welcome to rent a golf cart or bring their own; however, all courses are walkable. Please call ahead for rental reservations.
What do I wear?
Shooters should wear comfortable clothing and walking shoes. Eye and ear protection are mandatory for all persons on the range (available at our Pro Shop). Things like additional beverages (non-alcoholic), sunscreen, etc. are optional.
Pricing
Skeet & Trap
Tax Not Included
Sporting Clays
Tax Not Included
42¢ a target – only pay for what you shoot.

12-station sporting clays course

100 targets
Value Shooter Deal
Tax Included
$20/rental – Remington, Blaser, or Beretta Shotguns available in 20 gauge or 12 gauge
$30/rental– Golf carts
Don't Be Shy
If we didn't answer all of your questions, feel free to drop us a line anytime. Get In Touch